EUROGRANT4US - EU PUBLIC FUNDING PROGRAM
BY BLOOMBLISSER, THE STARTUP STATION,
AND THEOROS CAPITAL
We are no longer accepting applications for the pilot. Sign up here to be alerted of future opportunities.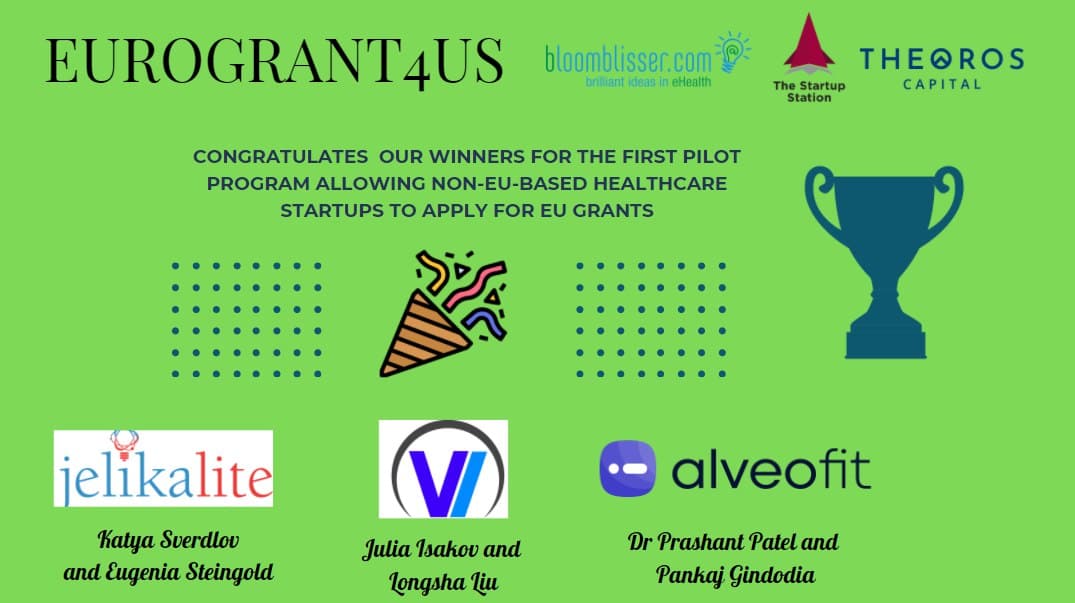 Are you a health tech, digital health, or med tech startup, located outside of Europe, looking for product development or clinical trials funds?

With EUROGRANT4US, our new program, you can apply for European non-dilutive public funding even from outside of Europe, use them to get your product market ready, and then be in a better position to raise growth capital for the U.S. when you have significantly reduced your risk.
We will also accelerate your European health market entry via Austria with additional non-dilutive funds. You don't have to relocate until you are ready.
Not a healthcare startup, but interested in exploring EU public funding options. Sign up here to be alerted of future opportunities.

Use our online questionnaire to see if you are eligible for EUROGRANT4US.
You are eligible if your answers to the required questions are marked in green.
The program is created in collaboration with our Austrian partners, Bloomblisser, a European venture builder and accelerator in Digital Health & MedTech and Theoros Capital (part of Theoros Group), a Vienna-based investment advisor with strong legal and regulatory expertise.
In EUROGRANT4US, we will select top three startups and will assist them to obtain public non-dilutive funding at no upfront cost.
We will announce the next webinar to learn more when we open up registrations.
Who we are
Bloomblisser specializes in European, Austrian national and regional grants and has an extensive track record of success. In the six years of its existence, Christian Bouda, Co-Founder and CEO and his team has helped more than 100 new ventures obtain investment and funding ranging from $36K (Euro 30K) to $3M (Euro 2.5M) and achieved a 3x success as compared with the success rate when startups apply on their own.
Theoros Capital is an investment advisory firm with offices in Vienna, London and Moscow with very strong legal and regulatory expertise. Innokenty Alekseev, Theoros's Managing Partner, is a Stanford Law School graduate with over 15 years of experience advising institutional as well as private investors. Theoros Capital is currently developing its own investment vehicle with focus on Europe (DACH and CEE) with particularly strong expertise in cross-border transaction structuring.
The Startup Station is an education and consulting company specializing in modeling, valuing, and funding early-stage ventures. We help you articulate your business case to investors from the financial point of view. We teach you how to create a detailed strategic roadmap, a robust financial plan and a resulting valuation that outline business logic, drivers, financial goals, and key metrics for your company. The Startup Station worked with more one 100 clients one-on-one across more than 15 industries. More than 1,000 founders have taken The Startup Station's courses to learn the basics of accounting, valuation, financial modeling, and startup financing.
Public funding in Europe - overview

There are numerous public funding programs in Europe. They exist at the European Union, national, and regional levels, and additionally in each of these categories on a topic-related basis. Outsiders speak of a funding jungle.
It is therefore important for a startup in each industry to have an understanding of the purpose of each grant, individual grant amount, maximum quota per grant program, eligibility criterias, and how the decision-making process works - to name the most important ones.
For example, one of the biggest programs, Horizon Europe (2021 - 2027), has a total budget of $120Bn. $16bn of those $120Bn is allocated to startups and SMEs across a wide range of funding programs, such as EIC Accelerator and EIT. In addition, more than $600M per year are paid out by Austrian national agencies.
If you are accepted to our program, we will help you identify the grants you are most eligible for and assist you with the application process to ensure a successful outcome.
Ready? Register below.
Program Benefits
Curated access to non-dilutive public funding up to $3M via relevant 150+ European, national or regional grant programs
Complimentary ($12,000 value) hands-on individual assistance with the application process executed by Bloomblisser, which has an extensive 6-year track record with 100+ startups in med tech and digital health
Complimentary ($6,000 value) legal advice (up to 10 hours) by Theoros Capital to address any legal matters arising as part of the grants application process and arranging for a local representative in Austria, if necessary
Knowledge of European laws and regulations to assist with incorporation and European market entry via Austria
Post-grant support and curated access to vetted resources and existing market entry programs to enable and accelerate a successful European market entry
Assistance with future growth funding by The Startup Station

You don't need to relocate to Austria until you are ready.

You don't need to spend any money or incorporate until you get a grant.
---
Real Life Example of Recent Successful Funding
Challenge: Social Distancing Solution 04/2020
Due to COVID-19 lockdowns worldwide many companies & organisations explored available possibilities on the market how to offer their services online in a completely work-flow integrated way.
A team of five experts applied for a European and a local Austrian grant with Bloomblisser. In five weeks they have been allotted a € 100k grant against their proposal. They received 40% down payment from that grant within another three weeks.
Who can apply
You must meet all requirements.
Required: Industry (one of the following) - digital health, med tech, health tech
Required: Stage (one of the following) - Idea or concept, Feasibility and market research stage, MVP + CE/FDA clearance, MVP + validation phase of your product development
Required: No presence in Europe
Required: No IP filed in Europe
Desired: Prior industry experience (at least 5 years) OR raised a professional round

Desirable: Revenues

Desirable: Prior exit experience (team or board of advisors)
If your technology is open source, you can apply as long as you have at least one revenue source and a way to protect your competitive advantage.
Sample uses of funds
Product development, R&D, technical feasibility and commercial potential

Clinical trials

Business development in Europe

Patent filing in Europe

Patent filing in the U.S.
Application process
Register below by January 15th, 2021. View the submission instructions

here

. You must submit your response by January 17th, 2021. The application fee is non-refundable.

We will review all applications and announce results on January 22nd. Top 6 candidates will advance to the next stage "Personal interviews".

Personal interviews with Bloomblisser and Theoros Capital: January 25th-29th

Winners announced on February 1st
After you are selected
You will work with Bloomblisser and Theoros Capital to apply for 1-2 European grants (you are most eligible for) for the next three months and will receive any necessary legal support (up to 10 hours) on the relevant paperwork.
You may expect a response in 6-8 weeks after you apply for each grant.
This portion is of no cost to the startup and typically costs $6,000 per grant and the legal advice is $5,000+ on average.
You don't need to incur any incorporation costs until you get a grant.
After you get a grant
You will be required to incorporate in Austria. Theoros Capital will help you with all the logistics and with arranging a local representative to fill out the paperwork.
FAQ
How much money can we raise through this program?
$ 36K - $ 3M
Are there any restrictions on the use of public funds?
Depends on the program. Typically the funds are used for product and business development.
How long does it take to receive a response after we apply for grants?
6 - 8 weeks
How much does it cost to incorporate?
Cost: Euro 2500
Paid In Capital: Euro 2,500 (can be used later to cover operations)
Do I have to move to Austria after I get a grant?
No, but you need to incorporate
What support can Austria provide to my startup?
I2A International Accelerator by Bloomblisser accelerates market entry into the European market for digital health, health tech, and med tech companies via a custom 3 to 6-month program. As a result of going through the program, startups will have:
a. An application for product approval
b. The necessary branch office
c. The necessary quality management assured processes (eQMS)
d. The development of test markets
e. First customers contacts
f. The examination and application (self-applied) for subsidies
g. The establishment of targeted contacts to co-investors
h. At least one started negotiation process for insurance reimbursement in case a similar product is already listed on the european market
Do we have any legal obligations or liabilities resulting from our application?
At this stage - no. If you are successful with the grant allocation, a legal contract is normally signed with the grantor where certain obligations will be spelled out, such as that you have to stick to the purpose of the grant that you have stated in your application. We will be in position to assist and guide you through that process.