INVESTOR MATCHING PROGRAM BY ASTRA GLOBAL AND THE STARTUP STATION
Are you tired of typical investor networking events and pitch competitions when you simply never know what you are going to get? Investors don't know enough about the startup founders, startup founders have no idea whom they are pitching to.
You also rarely get the necessary support, especially from the financial point of view, to be fully prepared for investors Q&A. As a result, most events are used to practice pitches rather than to make valuable connections and close deals.

WE HAVE A SOLUTION FOR YOU!
Our Investor Matching Program is uniquely designed to give you access to the investors who already expressed interest in your startup. Further, we prepare you and review your materials during our special investors prep program to put you in the best position to present and close the deal.

Eligibility for this round: any tech startup raising Seed, Series A, or Series B round.
The program is created by The Startup Station, an education and consulting company specializing in modeling and valuing early-stage ventures, and Astra Global, a global business development company specializing in deal structuring and startup funding, connecting high potential startups of different stages with global leading VCs.
To date, our startups have raised in excess of $50M in capital. We have access to 5000+ investors (20% angels/ HNW and 80% VCs, including early-stage).
Not ready to join yet? Sign up to our mailing list and we will inform you about our future events.
Ready? View our submission instructions and apply for our 2nd round!

BENEFITS FOR YOU
1. Power round with 200 investors: Assess if your startup is marketable by having your pitch sent out to 200 investors specializing in your sector and stage. See submission instructions here.
2. Get warm intros to any investor who expressed interest in your startup.
3. Get investor-ready through four custom-designed one-hour sessions and a 30-min mentoring session for the track tailored to your growth stage.
4. If you receive sufficient investor interest, meet with investors during our Investor Matching Event, and continue the relationship afterwards.
HOW IT WORKS
CLICK HERE TO VIEW THE CURRENT PROGRAM DATES.
Phase I "Power round with 200 Investors": 4 weeks - 2 weeks for admission and 2 weeks investors voting
How it's delivered:
You submit a 2-min video pitch and have one chance to resubmit.

If you follow our submission instructions and include all the required info in your pitch, you are accepted to The Power Round.

We send your pitch to 200 investors specializing in your industry/stage.

Investors vote whether or not they want to meet with you.
What you get:
A fair assessment of how marketable your startup is to 200 investors in your sector/stage

A 2-min elevator video pitch you can use for further pitching, its review from the investors point of view, and a chance to correct it before investors see it

For all startups accepted to the Power Round, a 30-min review of your investors documents to evaluate how investor-ready you are. F

ocus on financials for the early-stage track, focus on strategy and scalability for the growth-stage track
Those who did not get accepted have a chance to reapply at the next round for $25.
Phase II "Preparation for investors meeting / due diligence for investors": 3 weeks
We have two tracks for early-stage (Seed and Series A) and growth-stage startups (Series B+ startups).

How it's delivered:
Four one-hour consulting sessions custom-designed for you to prepare you for investor meetings

30-min pitch training session with a mentor/investor
What you get: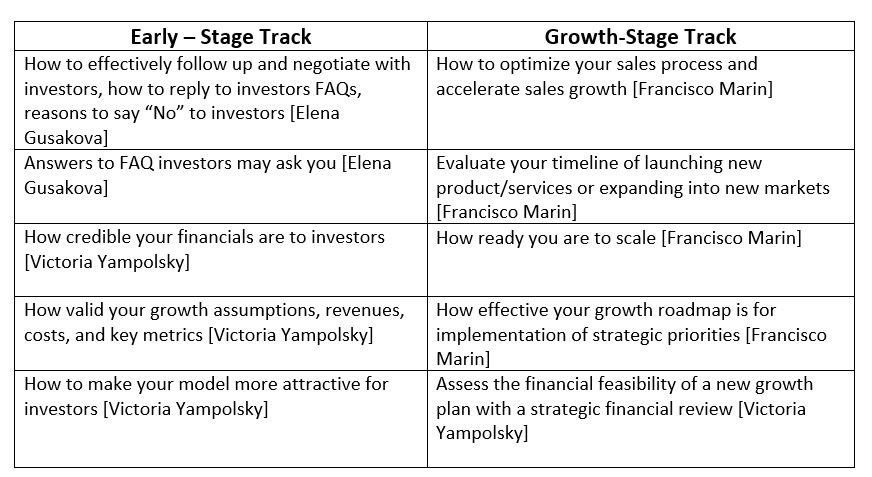 Check out TESTIMONIALS from past program participants and more details on the tracks below!
Phase III "Investor Meetings: One day
How it's delivered:
90-min online event: 30-min panel and 60-min investor meetings

Your personal breakout room to meet investors
What you get:
Meet investors who already expressed interest in you during our investors event

Warm intros to all investors after the event

Astra Global to manage investor follow up for you for the next 2 months

Astra Global to advise you how to best communicate with investors to ensure fast response and deal closure